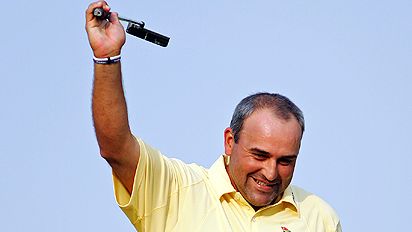 So, I am feeling kind of sad. No, not sad about Angel Cabrera winning the US Open. But rather, sad because an American failed to win "our" golf tournament ... again.
Is that wrong? Is that racism? I am clearly cheering against every race other than American in the US Open. And I think this makes four straight that foreigners have won.
Hmm
. It was just very weird to have to have an interpreter do the interview following the US Open trophy presentation.
This is further evidence that this world is really shrinking. And really, I like it. I like a smaller world. I like the NBA champions having a nationality pot-luck style roster.
Kind of ironic that I am having these thoughts after the SI article I read last night on
Omar

Minaya
. He has realized the true benefit at the big league level of having a multicultural roster on and off the field. And
better
yet, how to motivate and inspire them. The managers of tomorrow in the business world, where diversity management will be paramount, might take the time to learn the lessons people like Omar are teaching.
We Americans might have some humble pie to scarf down before we can take another step forward as a nation. But, there is still not other place I would want to be, good 'ole US of A.
Take care.